APCOA PARKING Italy boasts a portfolio of 144 car parks and articulated parking areas, distributed thoughout the national territory, with a volume of 87.000 parking spaces and an annual turnover in 2021 of 50 million Euros.
APCOA PARKING Italia has its Headquarter in Mantova, where it manages the main city centre car park; other main operating centres are in Avellino, Bari, Bergamo, Bologna, Cagliari, Cuneo, Ferno (Malpensa), Genova, Lucca, Massa, Messina, Mestre, Milano, Mondovì, Napoli, Palermo, Parma, Piacenza, Pistoia, Prato, Rho, Roma, Sesto San Giovanni, Torino e Verona.
WHERE WE MANAGE

As a value and service-oriented company with over 40 years of experience in car park management, we understand that profitable management of a car park is important to a property owner. We are continuously developing and making improvements to achieve this aim. One aspect has remained the same however: we focus on our and concentrate on a landlord as the partner.
APCOA PARKING satisfies owners and customers as the company offers more than just technical processing: APCOA PARKING manages car parks. Our employees, who live our company values, form the basis of this expertise. Honest, respectful interaction with one another is our first priority. The result is that APCOA PARKING offers transparency whilst also remaining aware of its responsibility not only to contractual partners but also to society and the environment.
APCOA manages in Europe more than 8.500 car parks, with a total of 1,4 million car spaces and a turnover in 2017 of 653 million Eur; the European Group was founded at the beginning of '70es.
At the moment APCOA operates in 13 European Nations: Germany, United Kingdom, Austria, Netherlands, Belgium, Italy, Poland, Sweden, Norway, Denmark, Switzerland, Ireland and Luxemburg.
WHO WE ADDRESS TO

APCOA PARKING is responsible not only for management but for all the activities connected thereto: economic-financial feasibility studies through project financing, planning, management and administration consulting.
As this is a Company offering a service, APCOA PARKING maintains contractual relations with public bodies, public and private investors that aim at maximising efficiency and returns in this area which is in constant growth although it offers considerable areas of risk and therefore requires professional operators.
Contractual relations and APCOA PARKING Group activities are extremely diversified: from direct management obtained through the traditional relation of company rent, to public and airport concessions, to management reports where APCOA offers services and makes available its know-how.
HOW WE MANAGE

APCOA PARKING Italia has a well-organised network of operational managers and supervisors as well as direct link with central offices able to guarantee the total reliability of management systems and offering immediate replies to customers.
Over and above "Off street" management (multi-storey parking garages, underground or surface parking areas) APCOA PARKING Italia also has considerable experience in running "On street" parking areas where lengthy European (especially British) traditions merge with a knowledge of the territory and Italian legislation.
For both "On street" and "Off street" managements, Apcoa Italia holds UNI EN ISO 9001:2008 certification.
APCOA PARKING is an all-round partner that guarantees a total overview of entrepreneurial activities in the field of parkings maximising the financial return of individual initiatives.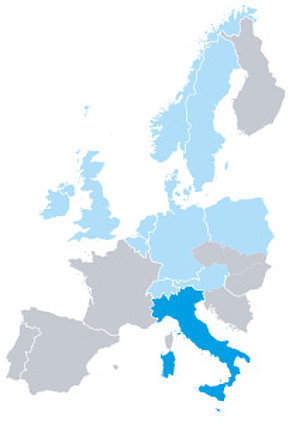 ---
KEY FIGURES ITALY

Year of Foundation: 1985

Car parks under management (05/2023): 144

Total car spaces (05/2023): 87.000
Turnover 2022: € 63,2 million

Employees (05/2023): 332

Market share: 1st place